MURAKAMI LUMBER Co., Ltd. Company Profile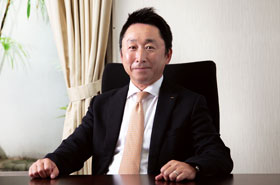 Kenji Sahara
President & CEO
Murakami Lumber Co., Ltd.
"Murakami" is a company, equipped with both stable reputation backed up by its 129 years' history and flexibility created by our young and active employees.
We are importing forest products widely from a various area of world : USA(incl. Alaska), Canada, Scandinavian Countries(Finland, Sweden, Austria etc.), Russia, Southeast Asia, China and other countries, and selling them to the market all over Japan through our 6 sales branches. Especially, our market share for logs, lumber and remanufactured wooden products imported from west coast of North America (we have two import offices, in Vancouver Canada ) stays as the top leader in Japanese market.
We have been distributing those imported products to sawmills, home builders, housing related manufacturers, furniture makers, joiners and shipbuilders. In addition, we are going into market development of processed, and finished or diversified products to meet with the change of materials used for house construction. In addition to those lumber products, we are expanding our market into the remanufactared. and finished products, and also all the housing materials including pottery products and toilet and kitchen system products. We may need to target into the end-user's market, making the most of our strength as the leader of housing matierials dealer.
"Murakami" will persistently follow up with forestry industry, with the belief that forest can survive for ever, and that wooden and related products will stay as the key material of world's house construction. For that reason I feel we might assume a mission to pur-sue a more efficient use of forestry resources.
"Murakami" has 129 years' history and already started our 2nd century. However, our staffs are outstandingly young in our industry. Then, in addition to succession of our stable management, we will endeavor to establish our bright future, accumulating active intention and perspiration to develop our new sphere, e.g. handling newly developed manufactured materials, and pursuing new distribution channels reaching closer to end-users, desirably with cooperation and patronage of our overseas suppliers and our clients, and also of "Murakami" staff.
Murakami Lumber Co., Ltd.
2-11-108, Hirabayashi-minami, Suminoe-ku, Osaka 559-0025, Japan
Osaka Headquarter : Lumber Dept.(Solid Lbr.Team, Housing Material Team), Log Dept.,
Tokyo : Lumber Dept., (Solid Lbr.Team, Housing Material Team)
Kyushu, Chugoku, Hokuriku District
Koryo Lumber Co., Ltd.(Oita, Hiroshima & Fukuoka)
Pretec Co., Ltd.(Precut mill)
Pretec Fuluoka Co., Ltd.(Precut mill)
Kenji Sahara/ President & CEO
Ken Murakami / Senior Vice President
Kenji Sugawara/ Managing Director
Hiroshi Ota/ Director
Akihisa Shimizu/ Director
Masashi Yayama/ Director
Yasuhiro Kitaura/ Auditor
¥15.2 Billion (2022 fiscal yr.)
32% Precut 
12% Scandinavia  
13% Lbr from US, CND  
13% Russia  
30% Others

Imported sawn lumber from U.S. & Canada is the top share product among forest products consumed in Japan. Especially B.C. State, Canada is focusing its main policy upon export of sawn product to Japan, remodeling their sawmills to meet with requirement of Japanese market. "Murakami" has offices in Canada with representative dispatched from Japan, to coordinate purchases from producers and suppliers in U.S. & Canada to meet our customers' fine and diversified market requirements. Murakami's handling volume of lumber has grown up greatly, and now Murakami's share in Japanese market reached to a leading position. In addition, we need to progresss into marketing of more value-added processed products. Species of lumber handled are ; Douglas fir, Hemlock, Spruce, Red cedar, Yellow cedar etc.

Murakami has been importing a large volume of softwood logs produced in Northwestern States of America, Alaska, Washington, Oregon, and B.C. Canada, in partnership with leading trading houses of Japan, and distributing the logs to all part of Japan through our 7 branches and subsidiary offices. Murakami keeps the top share in this Japanese industry. Murakami's handling volume in Japanese market (share %) for North American logs is 5%, and especially for high grade logs our share is over 20%. Main species are ; Douglas fir, Hemlock, Spruce, Red cedar, Yellow cedar etc.
Import of Scandinavian (Finnland, Sweden, Austria etc.) forestry products increased drastically during recent 4 or 5 years, including solid lumber and laminated lumber and the import volume reached the same level as North American lumber. The main reasons for the sudden increase are ; big change of Japanese house construction spec. since 1995, and value of Euro $'s big change. Main species are only two, Whitewood and Redwood. Both of them are young trees and easy for processing, cutting, kiln-drying and laminating. Handling volumeof Scandinavian lumber by Murakami stays at a high market share in Japanease market.
●
Russian Logs and Lumber
Among the diversification and competition of international import of lumber product, logs and lumber import from Siberia is steadily increasing. Russian softwood major species are only 3 ; Red pine, Spruce and Larch. They are mainly used for housing materials and plywood. Hardwood species are also imported and used for furniture and housing interior material. Murakami has been constantly importing and handling both of them constantly.
●
Remanufactured Lumber in China

In China , Murakami is remanufacturing wooden products used for housing materials and for other commodities necessary for our daily life. The raw materials for those products are in addition to lumber from Southern China imported to China from North American Countries , Syberia Russia , Southeast Asia and some from Japan , After remanufacturing the raw materials to finished products, they are re-exported to Japan . With the merit of low cost of personnel expenditure and preferential duties system for import-export, this type of remanufacturing projects in Chinese factories is rapidly growing. Murakami is strongly going into China to handle this field business.
Housing Materials(Finished Lbr, Various Building Materials, Kitchen & Toilet Units etc.) for End-Users Market.
●
Supply whole housing materials to end-user's market

Murakami started a new housing material handling department in 2006, handling not only wooden products, but also plywood, other housing materials including pottery products, kitchen ad toilet system units etc. In addition, new distribution center started in Osaka, assembling and distributing the whole housing materials by one house by one unit. We are strongly going into new field business.
●
Precut Lumber marketing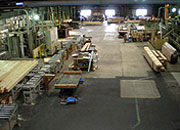 Stability nature of the used materials for housing is strongly requested these days, and housing materials are changing from traditional green lumber to kiln-dried and laminated lumber, plywood and other materials remanufactured from wood. Parallely, number of carpenters rapidly decreased , and instead, those products are now mainly pre-cut with computer system CAD & CAM in " Pre-Cut mill" To follow up with the system change. Murakami is pouring our marketing target to end-user's market (or homebuilder ), to sell the finished products in our new pre-cut mill.
Specialty Marketing Activities
●
Building & Real estate Division

Management of effective activation of Company's fixed asset and investment, to stabilize company's management. Murakami possesses high grade buildings for sub-leasing in Tokyo (Toyocho ML Plaza, and ML Court Kiba), and some other buildings for lease, and parking lots for rent in Osaka area, Tokyo area, Kyushu and Shikoku.